Updated On- 26 Sep 2023
Do you want a regular fixed income of 25k means Rs 25,000/- per month by investing Rs 33.41 Lakhs?
Also, this income will continue till 5 years.
Now by reading such offers we are thinking whether my investment is safe. The amount 33.41 lakhs is a big amount and has to be invested in well secured investment scheme.
What is the scheme where I get this much returns?
National Saving Certificate which also known as NSC, is the investment scheme where average 25k per month income can be fetched by investing Rs 33.41 lakhs 5-year lock-in period.
Is this Investment scheme is Secured?
This investment scheme is run by Post Office. Post offices in India are operated by India Post and these post offices come under Department of posts ministry of Communications Government of India.
As this is indirectly given by the Government of India hence it is reasonably secured.
What is the interest rate?
The Govt. has kept the interest rate unchanged for the second quarter of the year 2023 i.e from 1st July 2023 to 30th September 2023 for all post office investment schemes. The present interest rate of NSC is 7.7% annually compounded.
The interest rate will be the same for 5 years If you invest during the quarter July-Sep 2023 then the same interest rate will be applicable which will be fixed for NSC tenure five years as this scheme has a lock-in period of 5 years.
How it Earns 25k per month by investing rupees 33.41 Lakhs?
If you invest 1 lakh in NSC then after five years you will get the maturity amount of Rs 1,44,903/-.
The total interest earn is Rs 44,903/- after maturity. This interest amount we get after 5 years i.e 60 months. If you divide Rs 44,903/- from 60 months then the earning is Rs 748.38 per month. 
 If you invest rupee 33.50 lakhs then total earning will be
Total Earning = 33.41 X 748.38 = Rs  25,003/- per month
So by investing rupee 33.41 Lakhs we can get rupee 25k per month average income.
How much you will get if you invest less or more amount?
In NSC, a minimum investment of Rs 1000 can be done and further investment should be multiple of Rs 100/-. There is no limit of investments, any amount can be invested.  Let see how much amount can give what income per month.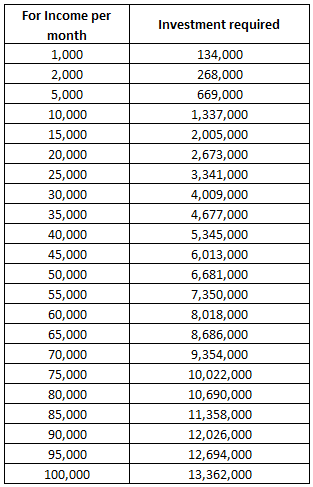 You can invest any amount in NSC or can invest according to monthly returns. This will like effortless income which you can generate while sleeping.
So do not keep idle your money. If you put your money on work like such kind of schemes then you will get assured income per month. This effortless income can keep you stress-free and give you a peaceful life. It also makes your confidence level up.
Learn more about NSC by reading the blogs–
How to invest in NSC in Post Office ?
Invest in NSC for best returns