If you love to explore your hobby of singing, exploring your voice, or your videos for Youtube, Podcast, Voice-over…..etc., then at beginning you need a small home studio for you which can be used by you and your family members like spouse & kids to explore their talent.
The voice quality we have either of singing or speaking can be enhanced by home studio setup where you can record your voice and can do experiments to give the best results to your voice.
First what is more important to know ?
First, we will understand the basic home studio setup and equipment or accessories which are required to set up Home Studio.
Later I will write a blog on "How to set up basic home studio less than Rs 8,000/- "
Before setup the studio you need to know little about equipment and what are the functions of the components. It's like few basic facts about the home studio.
So what you require for Home Studio ?
To set up your home studio you need few things which require to set up a very basic studio.
Microphone
Cable for Microphone
Audio Interface or Phantom Power
Shock Mount & Stand
Pop Filter
Headphones
Speakers
Laptop or PC.
Recording Software
1. Microphone
Microphone or you can say mic is the very important and basic thing which is required for your home studio. The mic can do miracles with your sound quality so while choosing your right mic you need to check your requirements.
Types : For recording your voice, two types of mics are available. One is known as Dynamic Microphone and other is Condenser Microphone.
For home studio, condenser microphones is required for the best sound quality. Dynamic microphone generally uses for doing performance on stage or in concerts.
As we are talking about home studio, so we will talk about condenser mic. These mics are very sensitive, even they record the surrounding voice also.
For recording your voice for general purpose you can choose low budget mics but if you are looking for professional singing then mics should be of good quality.
Cost : Condenser mic range start from Rs 1200/- and it goes in even lakhs also. But just for your home studio, you can choose between Rs 1200/- to Rs 4500/- worth of mic which is enough for good recording.
Cable Configuration for Mic : Now the condenser microphones are coming with XLR cable type & USB type. For those who want to use only for PC or laptop then USB type condenser microphone is good enough.
But if looking to upgrade later in future with professional set up then XLR mics are good as it is compactable with many things like Music Mixture & other professional equipment. The sound quality of XLR type mics are little better.
Brands : Many brands are available in the market like Maono, Wright, Finine, Rode, Audio Technica etc.
These brands are reasonably good, Maono & Wright are little cheaper. Finine & Rode are very good brands. Audio Technica is the most popular brand across the world and their voice output is very good.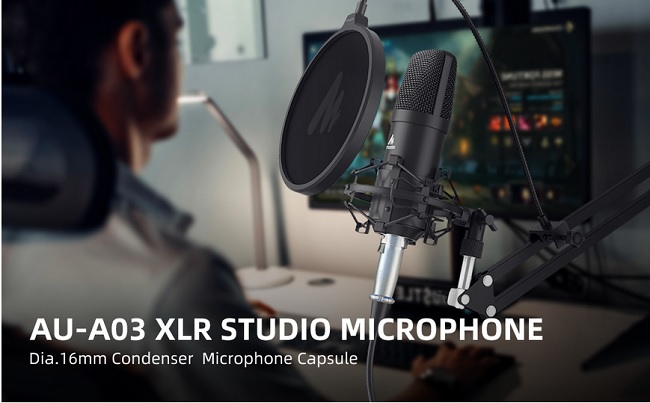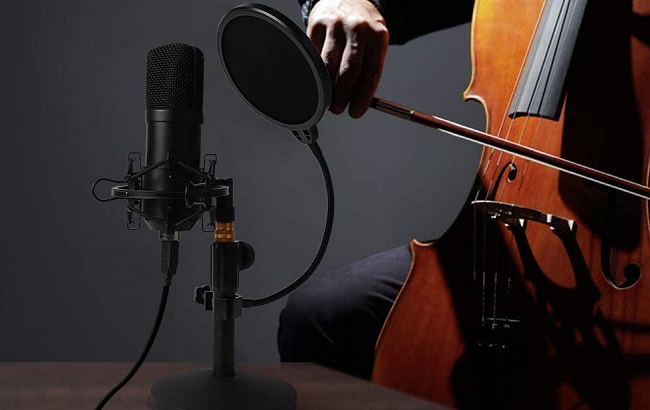 You can choose condenser microphone as per your budget.
to see more option you can explore here
2. Cables for Mic
Two types of cables are used for the condenser mics. One is XLR and another one is USB type. Many brands are providing cables along with mic although it can be purchased separately if you required lengthy cable as per your requirement.
Cost : Cable cost is ranging from Rs 500/- and goes upto Rs 3000/- depending upon the length.
Brand : Many brands are available. It is always advisable to buy cable along with Mic which most of the brands are offering.
For home studio, you can select cable either XLR or USB which comes along with mic.
3. Audio Interface or Phantom Power
For USB type condenser mic, no additional phantom power supply is required.
But for XLR type of mic you need 48V phantom power supply for mic. Even XLR mics can directly be connected to PC or Laptop but without phantom power or audio interface, you will not get good sound quality.
Audio interface is the combination of Sound card and Phantom power supply which used to improve the quality of sound and also supplying Phantom power to mic. It will enhance signal quality of audio. Few audio interfaces are without phantom power so while choosing audio interface, ensure that phantom power should also be available.
Most of the PC & laptop has sound card which is converting analog signal to Digital signal. But generally sound card in PC is just to listen audio on your earphone or speaker. At beginning, you can manage with computer's sound card but for good recording, audio interface ( external sound card) is required to enhance audio quality.
If your computer is having good sound card then only Phantom power supply is needed to supply 48V power to condenser mic.
Type : Audio interface is like a sound card which is converting analog signal to digital signal and also comes along with phantom power supply. Most of the audio interfaces are 2 channels where other musical instrument or mics can be used.
Cost : The cost of phantom power supply is ranging from Rs 1500/- to Rs 2500/-. The audio interface is costlier ranging around Rs 10,000/-.
Brand : Popular brands in Phantom power are Powerpak, Hayden. Audio Interface good brands are Focusrite, Steinberg, Tascan, Behringer. Focusrite brand is one of the best audio interface which is the best for Home Studios.
For beginners, phantom power is enough which is the least required for condenser mic.
4. Shock Mount & Stands
The Shock mount is to hold the condenser mic. This shock mount can be fixed to the stand and the height adjustment can be done by the stand. The stand can be used to avoid holding and height adjustment of mic.
Even the mic can be fixed directly to the stand.
Type: Many kinds of stands are available like table mounted, can be clamped to the table and floor mounted. The stand requirement is completely depend upon individual like if you are sitting while recording then table mounted or clamp to the table stands are good.
For standing position, floor mounted stands are best. Especially for professional singing, floor mounted stands are suitable. The stands are coming with different heights which can be chosen as per requirement.
Cost : The Shock mount price is ranging from Rs 300 – Rs 600/- depending upon quality.
Stand price is ranging from Rs 350/- to Rs 2000/-. The table mounted & clamp to the table stand are even less than Rs 1000/-.
Most of the brand are offering full set including Mic, shock mount, stands table mounted or clamp to the table stand and XLR or USB cables. Full set is always cheaper instead of buying items separately.
Brand : It is always advisable to buy shock mount & stand with full set as brands are providing good quality stuff and also costing less. Even also you can buy shock mount & stands separately on online websites like Amazon.
Popular brands in floor mounted stands are Powerpak, Muano, My Stand etc.
For the beginners, it is always recommended to buy in full set that includes mic, stand, shock mount, cables etc.
5. Pop Filter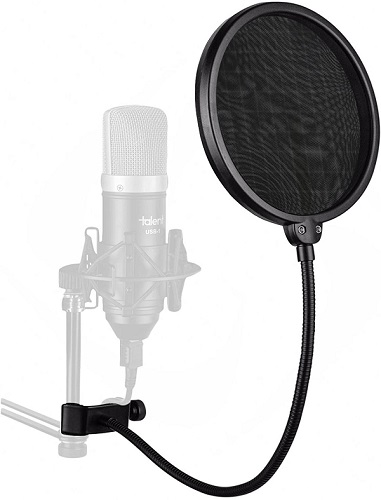 This is very important accessory for a condenser mic. While singing & speaking, many voices like Pa, Pha, Bha, Da are directly making impacts on the recording. To avoid that impact Pop Filter is a must.
Cost : The Pop Filter cost is ranging from Rs 300/- – Rs 500/-. This also comes along with the full set of mic. Also you can buy separately.
Brands : Many brand and local brands are available on the website Amazon. Known brands are Muano, Juarez. Rode etc.
6. Head Phones
While recording, to hear the music you need a headphone. It will also recognize the sound quality and any other noise while recording which need to be corrected by recording software.
Cost : The cost of the good Head Phone are ranging from Rs 1500/- to Rs 10,000/-. For home studio Rs 1500- 3500/- rage is good enough. If you have any local headphone also of Range Rs 350/- to Rs 500/- can also serve the purpose of home studio.
Brands: Renowned brands are like Maono, Behringer, AKG, Shure, Audio Technica are good.
7. Speakers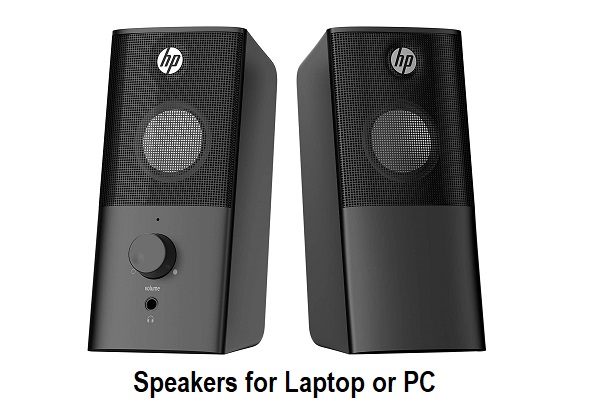 You need external speakers for your computer to listen the sound as Laptop speakers are not having sufficient sound power.
Cost : External speakers for PC is ranging from Rs 1000/- – Rs 2000/-.
Brand : Many brands are available in which Amazon Brand speakers are reasonably good.
8. Computer
You need a computer either Desktop or Laptop to record & Edit the music or voice. A normal computer with a normal configuration is sufficient to record music. For HD videos good configuration computer is necessary. Smartphones can also be used to record music.
9. Recording & Editing Software
To record music editing software is necessary. By this software recording, editing, specials effects can be performed and sound quality can be enhanced.
For home audio set up Audacity is good software which is presently free. Premium versions of Audacity are also available but for home studio set up free software is sufficient.
FL Studio is also one of the good music recording software.
These basic things are required to set up home studio. This Home studio set-up cost starts from 5k – 8k for a reasonably good setup ( computer cost is not included ).
If you have a passion for music or voice recording and wanted to explore the talent of you & your family, then just set up a basic home studio and start making your memories. This exploration of your talent will help you to improve your personality and add value to your life.
EXPLORE ALL HOME STUDIO EQUIPMENT