You wanted to live your life the way you want? If yes, then read this entire article carefully.
How you can take control of your life?
Everyone is working to get respect in society which can be achieved by 1-recognition, 2-fame, 3-power and 4-money. If you want to work on these then your life will be more powerful and you can lead your life the way you want.
Your prime aim should be to get recognition and live life with ease and comfort so first start with 4-money which makes the foundation to build 1, 2 & 3.
4-MONEY
To live a powerful life, make you financially strong. The four most powerful ways will help you to accomplish.
Keep updated on your financial status.
Built Social Security
Invest to earn.
Create Retirement Corpus
1. Keep updated on your financial status – To achieve any goal in life you need to take the first step very strongly and this is the first step that makes you more powerful in long run.
If you just started earning or earning since long then first check how much money you have and where it is lying. This will tell you precisely about your single money and your financial worth. A simple Microsoft Excel will help you to do this or you can keep the record in Note Book too. In Excel, you can secure your details by putting in a password.

2. Built Social Security – Life is to enjoy but simultaneously you should build a social security cover for you which will be like your backbone in any troublesome time. Social security is a little long process and to achieve this you need patience but once you gain, it will protect you in any kind of financial emergency, especially in your sustainability. In any bad time, this money will take care of all your basic needs.
These are the four which will create social security for you.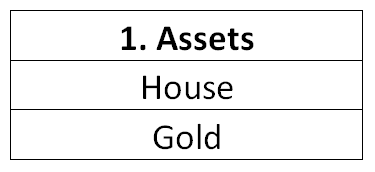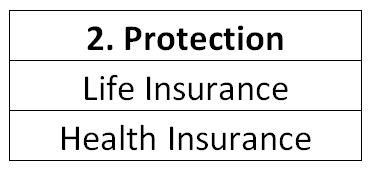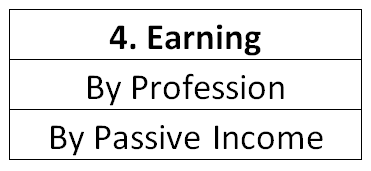 3. Invest to Earn – If you are not serious to invest money then you are losing big regular income which can be generated with no effort. To get this effortless regular income you need to learn investment techniques. First, you keep some amount as cash for any emergency needs. Secondly, you keep some money in Fixed Deposit or any scheme where you can draw your money any time where your money should not depreciate.
Rest you can invest to earn money which may be short-term investments or long-term investments. Make sure your investment portfolio should be balanced which has Secured Investments, Medium Risk Investments and Risk Investments. If your age is 50+ then go more for secured and medium risk investments.
Learn the technique of investment in your respective country. It's always to your luck how you can multiply your money in a faster way.
4. Create retirement Corpus – Most people are not comfortable with the word "retirement" but one should understand that your energy levels may go down with your age and when your energy levels may not help to earn money which is very essential to sustain & further live comfortable life then you cannot do anything other than begging to others or you have to earn money in older age.
So you should start thinking about your retirement corpus at the age you are and start building your retirement corpus. If you start early then the power of compounding will multiply your retirement corpus very fast in long run.
These are all four ways that make you financially stronger and make you strong in 4-Money. This will be like the foundation of your life and you can live your life with ease and comfort.
To achieve all these four, you need to earn and save money.
3-POWER
Power comes with three things
Money
Position
Social circle
1. Money – We have seen above how money creates a foundation in life which will help to live life with ease and comfort. Same time it makes you more and more powerful as money grows. Money will work as your confidence which gives freedom to do many things in life.
2. Position – For placing a strong position in society we are doing many efforts like gaining higher education, upgrading skills, learning new things, enhancing designation, expanding business, exploring creativity, building personality, etc. These all will help us to gain a position in society and to get a strong position. As much you enhance your capability in the above, as much you can able to place a strong position in society.
In this materialistic world, you can place your position to see the experience of placing a position in society.
3. Social Circle – We cannot live life alone just with money & luxury. We need family, relatives, friends, elderly, neighbors, colleagues and society. This all makes life vibrant. With them we are sharing our problems, celebrating festivals, spending time and helping each other. Other than a known society we are connected with so many other people by profession and social media platforms which make our society wider.
These all social circles are making you more powerful. This helps you in any troublesome time. This may help you to do business ventures, get guidance, fund raising, learning new things, sharing experiences, get expertise and many more such advantages that make you more powerful.
2-FAME
When you get money, position and social circle then you become known to your surroundings. Your expertise, talent, goodness and humbleness will make you more famous across society. As big you have society, the more you become famous.
It's more important you should not lose your credibility which is the backbone of your fame.
1-RECOGNITION
Once you get fame, same time people will recognize you by your personality, your expertise and by your name. If you are not able to get fame, recognition is enough in life to have satisfaction.
These all we are doing just for happiness and we always forget that the main objective is "happiness". Running behind 1-recognition, 2-fame, 3-power, 4-money, we generally forgot our main objective and we are making our life more stressful which is damaging our mental peace and health.
You are the most important person for your family so while chasing to become powerful, you should not stress that much which harms your peace and health.
So live powerful life keeping this in your mind that it should not impact your peace and health. To start your journey to live powerful life, take first step which is 4-Money and "Keep updated on your financial status"