Last Updated : 16 July 2020
In present market scenario investment in secured investment options can only protect our investments and same time generate fixed income by interest. In secured option category, National Saving Certificate (NSC) of post office is one of the best investment option which is reasonably secured and giving good returns on investments. If you compare all investment plans of post office & fixed deposit plans of nationalised banks, NSC is one of the best option which is fetching higher return as compare to any other secured options.
India Post i.e post offices are comes under Department of posts ministry of Communications Government of India.
The post office is offering National Saving Certificate (VIII Issue) which is fetching 6.80% interest rate annually compounded with lock-in-period of 5 years.
(1) Silent features of NSC
Duration : 5 Years ( Lock-in-period )
Interest rate : 6.8% annually compounded
Minimum Contribution : Rs 1000/-
Maximum Contribution : No Limit ( Multiple of Rs 100/-)
Interest after maturity : Taxable
80C benefit : Yes
(2) More about NSC
NCS can be purchased on single or joint account (Max upto 3 holder allowed).
NSC can be purchased for minor by adult if minor age is above 10 years.
NSC will be issued in form of Passbook where every NSC will have separate passbook.
Investment of Rs 100 will become Rs 138.94 on maturity after five years.
During tenure of 5 years the NSC will be transferred from one person to another only once.
After purchasing the NSC the interest applicable will remain the same during tenure of 5 years.
There is no cap of investment so as much amount can be invested.
(3) How to purchase NSC
The NSC can be purchased from any post office. Few of the small branches are not providing facility for purchasing NSC.
If you are first time opening any account or buying NSC for any post office then you need to complete the KYC formalities first. To complete the KYC formality you need to fill the KYC form which you can get from your nearest post office. For making NSC you need to fill the form for NSC which will be available to your nearest post office.
If you are first time purchasing NSC then you can submit NSC form along with KYC form. Both form along with all required self-attested documents and two passport size coloured photo you can submit to post office counter. Within 3-5 day based on your submitted KYC form the post office will allot you the CIF number. You can refer this CIF number while opening any account or any further investment/ purchase of any investment plan of post office.
The same NSC form can be used for opening Saving Account, Recurring Deposit Account (RD), Time Deposit, Monthly Income Scheme (MIS), Senior Citizen Saving Scheme Account (SCSS), Public Provident Fund (PPF), Sukanya Samriddhi Account (SSA) and Kisan Vikas Patra Account (KVP).
(4) How much income per month you want from NSC
NSC is the best option to generate second income from your investments. You can decide the income per month and accordingly can invest the amount. This income is average income per month which you will get after maturity of five years.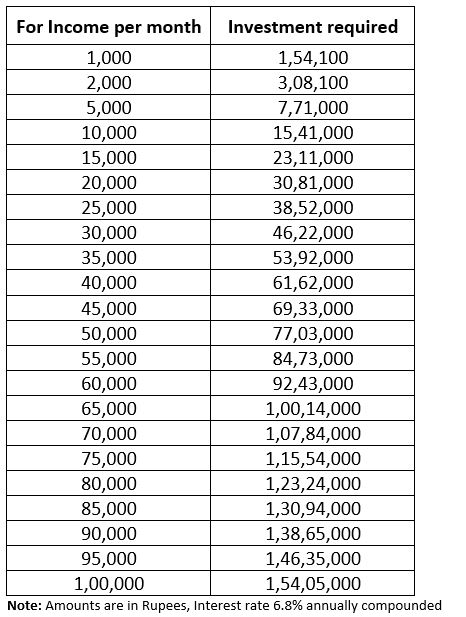 (5) Documents Required
Two passport sized coloured photo.
Self-attested copy of Aadhar Card.
Self-attested copy of PAN Card.
You need to fill all the mentioned details in the KYC form.
(6) How to fill KYC form and NSC Form
KYC – Form
KYC form is mandatory for buying any investment scheme or opening any account in post office. Based on KYC your one time CIF number will be generated. This CIF number will be generated in 2-7 working day depending upon post office type i.e. Head post office or Sub post office or small branch of post office.
KYC Form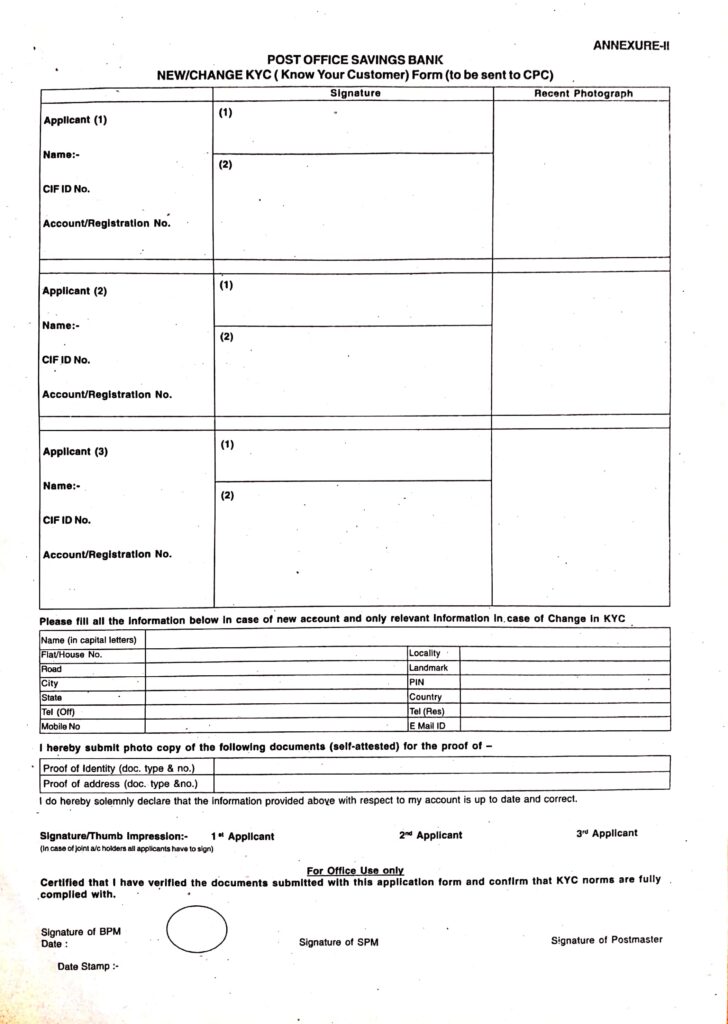 How to fill KYC form stepwise
Fill the details of first applicant. In block (1) do the signature. In block (2) fill the details like Name only. CIF number will be generated and filled by the post office. Affix passport size coloured photo in right side block.
Fill the details of second and third applicant same as first applicant.
In next field you can fill your name and postal full postal address.
Provide the detail of photo & address proof.
In next field signature of all the applicants.
After filling this KYC form submit to post office counter along with all self-attested copy of the documents.
NSC – Form
For NSC you need to fill separate form where you can fill all the details as per requited in the NSC form. You can see below what details are required and how to fill NSC form step wise.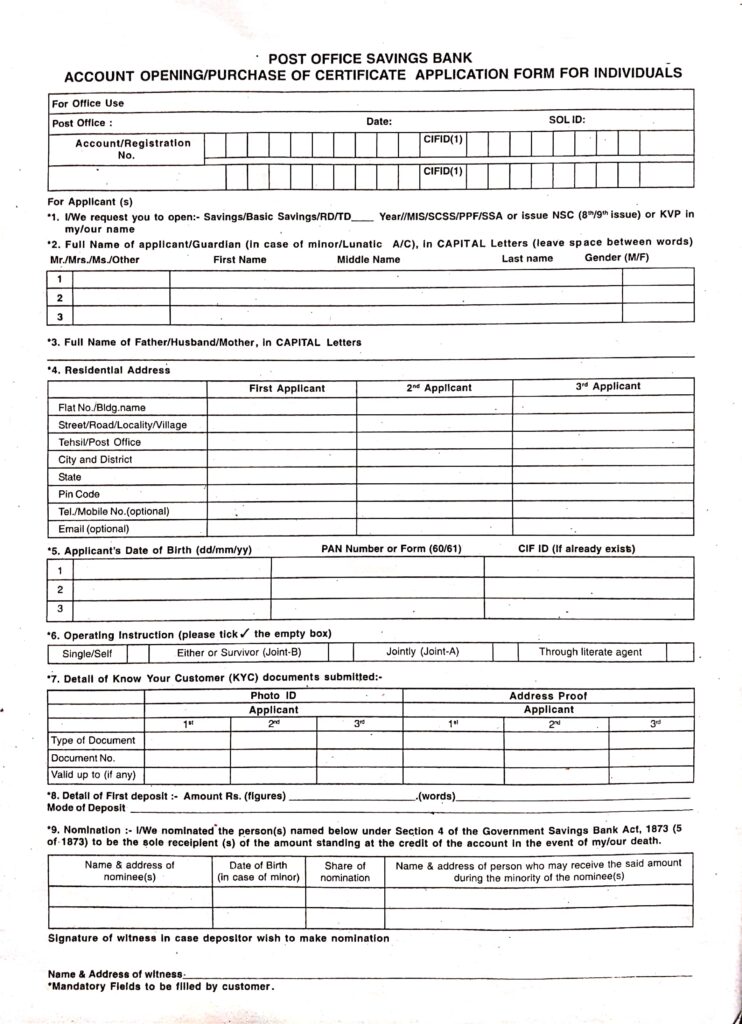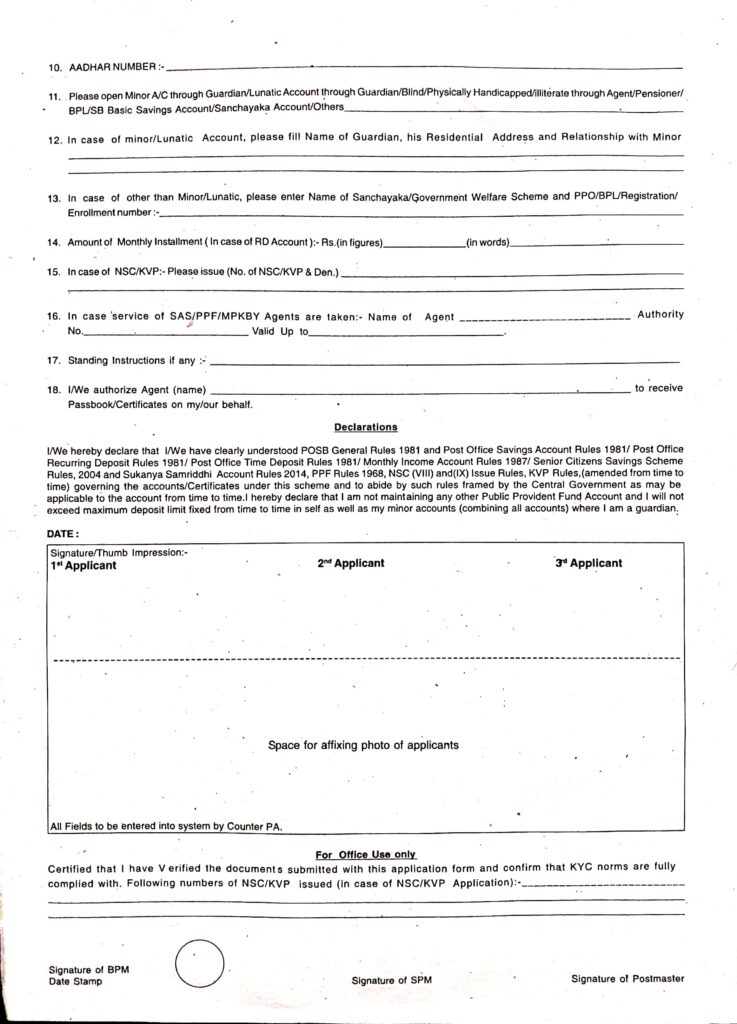 How to fill NSC form stepwise
If possible try to use blue pen although it's not mandatory.
Put heading NSC on the top
In serial no. 1 underline and tick on option NSC.
In serial no. 2 write the details of applicant & Joint holders. First column is of serial number. In 2nd column write Mr or Mrs or Ms according to your status. In 3rd column write first name, middle name & last name and in 4th column write gender of applicant and joint holder's name.
In serial no. 3 write Father or Husband or Mother's name.
In serial No. 4– write address, email ID and phone number of applicant & joint holders.
In serial no. 05 write date of birth, PAN number & CIF ID of applicant and joint holders. 1st column is of serial number. In 2nd column write date of birth, 3rd column PAN number and 4th column CIF id. If CIF id has not been generated then leave it blank.
In serial No. 6 in operating instruction you can chose one option out of four options
In serial No. 7 you need to fill KYC details if CIF number is not generated. You need to provide the details of photo proof and address proof of first and other applicants. Photo proof can be Aadhar, Passport….. etc. Address proof can be Aadhar card, passport……etc. If CIF number has been allotted then filing this field is not mandatory. Only you need to mention that "KYC has been submitted".
In serial no. 8 you need to fill the details of the invested amount in figure and in words. Cash amount can be accepted upto Rs 20,000/-. For higher amount over 20k can be paid by cheque only. In mode of deposit you need to provide details of deposit. If you are paying buy cash then you need to mention only "Cash" . If paying by cheque then write "Cheque" and provide details of cheque like bank name, branch, city, cheque number & cheque date. Example : SBI Karol Bag branch Delhi, Chq No 674532 dated 27 Nov 2019.
In serial no. 9 you need to fill details of nominee. You need to provide names, date of birth ( In case of minor only ), % of share and address of guardian of nominee ( In case of minor only). Signature of witness and address of witness are required in case of nomination.
In Serial no. 10 you need to fill Aadhar number if you do not have CIF number.
In serial no. 11,12,13,14 these fields are not for NSC. Put cross ( x ) on it.
In serial no. 15 if you want multiple of NSC you can mentioned. You can leave this field then one NSC passbook will be issued of the invested amount.
In serial no. 16, if you are purchasing through agent. The agent will get small commission on invested amount.
In serial no. 17 you can leave.
In serial no. 18 you can fill if you are authorising agent to collect the NSC passbook by agent. If you are directly doing then you can put cross (x) on it.
In next field make signature of First / Second / Third applicant. While doing signature you should more cautious as at the time of maturity after five year you have to do the same signature.
After filling, the form can be submitted along with cross payee cheque to the post office counter.
If you have CIF number then for every investment you can submit filled NSC form and cheque of invested amount.
You need to ask at post office where you are making NSC that on which name cheque to be made. It will be mostly name of the local head post office name.
On back side of the cheque mention the details For NSC, your name & CIF number and mobile number with name. Do not forgot to mention these details on backside of the cheque.
The amount will be debited in 2-6 days from your account and amount debit date will be the NSC start date from the date you will get interest.
In next financial years, India post are planning to make available all the services related to investments Online which is currently under development.
National Saving Certificate (NSC ) is the best option for creating second income source. You can decide the income you want and accordingly can invest amount in NSC. Income of NSC will be fixed for 5 years and further again investment can be made for another 5 years with the interest which will be there at the time of maturity.
Read more about…..
Post office schemes are the best tools for multiplying your investments
Which post office plan is best for what ?